Digitally-Enabled EAP and Mental Health Program
Welcome to your Mental Health and Employee Assistance Program (EAP). We seamlessly combine on-demand digital resources with live support by expert clinicians. Anytime, anywhere access where and when you need it most. 
Short-Term Counseling
Members and household dependents have access to up to 3 counseling sessions per issue. Counseling sessions are 60-minutes via phone, video or in-person with a masters-level or PhD clinician. Sessions are focused on higher level mental health needs such as anxiety, grief or stress.
Coaching for Mental Wellbeing and Life Issues
In addition to short-term counseling, members and household dependents can schedule up to 3 confidential coaching sessions per year. It starts with a Wellbeing Check that will measure your current wellbeing, mood, and stress levels. Based on your assessment, you will receive recommendations to over 40 online and/or coach-guided mental health skill building courses.
Resources to Keep You Engaged
Access your online library with quick access to view newsletters, articles, and training so you can get the most out of your program.
Employees and Family Members
EAP and Mental Health Services ​for Employees and Family Members
Supervisors and Managers
EAP and Mental Health Services ​for Supervisors and Managers​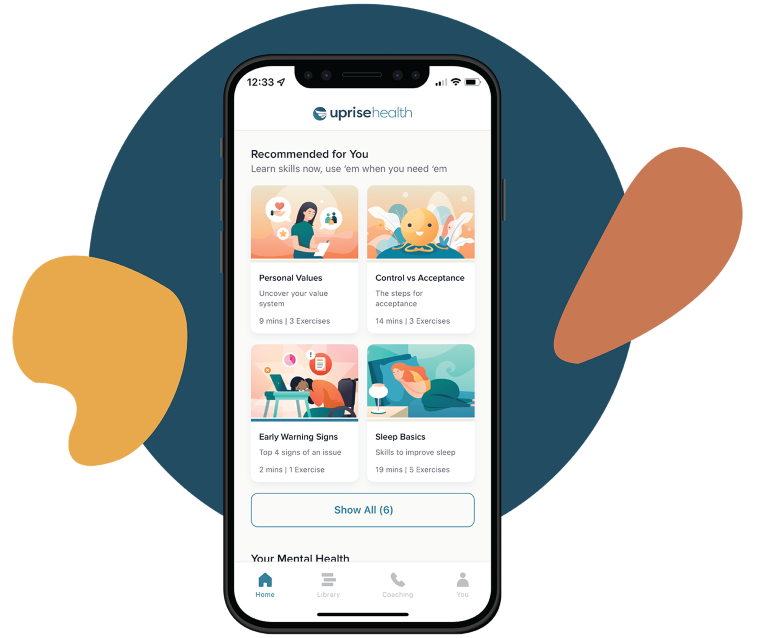 Helping employees and their families be their best.
Have questions or need assistance with challenges in your daily life or work?
after-hours answering service available 1-800-386-7055

Phone
1-800-386-7055​
6 am – 5 pm PT​
8 am - 7 pm CT
9 am – 8 pm ET
Monday - Friday​
A perfect balance of clinically-based technology and human connection.
Our digitally-enabled EAP combines online mental health courses, coaching, short term counseling, and work-life services.
Coaching
Online courses and live coaching sessions to improve overall mental wellbeing.
Short-Term Counseling
Members and household dependents can receive up to 3 in-person or video counseling sessions per issue.
Work-Life Services
Helpful resources for childcare, parenting and caregiving, health and wellness, and financial planning and legal services to help balance work and life responsibilities. 
Supervisor and Leadership Support
Services to help address employee performance issues, manage workplace risk, and develop an organizational culture focused on the mental and wellbeing of your teams.
GUARDIAN™ and the GUARDIAN G™ Logo are registered service marks of The Guardian Life Insurance Company of America and are used with express permission. Links to external sites are provided for your convenience in locating related information and services. Uprise Health, Guardian, its subsidiaries, agents, and employees expressly disclaim any responsibility for and do not maintain, control, recommend, or endorse third-party sites, organizations, products, or services, and make no representation as to the completeness, suitability, or quality thereof. Legal services provided through the Employee Assistance and Mental Health Program will not be provided in connection with or preparation for any action against Guardian, Uprise Health, or your employer.
Disclaimer Notice:
In the State of New York, financial, legal and Will services are not available per state requirements.